NEURO COMPLEX – 90 CAPSULES
Neuro Complex features the unique, patented, chelated mineral Magtein®, which contains magnesium that is chelated to threonic acid (magnesium L-threonate). This highly bioavailable form of magnesium is formulated to promote brain concentrations of magnesium.* Magtein® is superior to other forms of magnesium at entering through the blood-brain barrier.* This product is designed to support cognitive function, memory, and overall brain health.*
ADRENAL FLOW – 90 CAPSULES
Adrenal Flow is a combination of standardized adaptogenic herbs and nutrients which are known to contribute to rejuvenating the adrenals.* This product is designed to help support healthy cortisol metabolism, hypothalamic and pituitary function (HPTA axis), and catecholamine production (dopamine, norepinephrine, and epinephrine).*
GPC LIQUID  - 2 OZ  
GPC Liquid is a good choice when higher amounts of GPC are desired, and the dropper is calibrated to allow for easy titration. GPC Liquid has a naturally delicious, sweet taste on its own so no additional sweeteners were added to this product.
SLEEP COMPLEX – 60 CAPSULES
Sleep Complex capsules is a blend of botanicals, nutrients, and neurotransmitter precursors designed to support quality, restful sleep. By providing nutritional support for calm brain activity, Sleep Complex helps promote the body's natural ability to fall asleep and stay asleep.*

Key ingredients include botanicals that support nervous system function, PharmaGABA® (a proprietary form of GABA), L-theanine, melatonin, 5-HTP, and pyridoxal-5- phospate (activated form of vitamin B6).
$94.50
---
View full details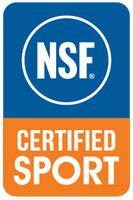 Why NSF Certified for Sport®?
We align ourselves with NSF as a testament to our commitment towards industry safety standards. Determined to become the leading supplement and education resource in the performance nutrition category, our alliance with NSF further reinforces our commitment to product excellence.