COLLAGEN COMPLETE  - 390 G
Collagen Complete contains a unique blend of three patented collagen peptides supported by clinical research showing their efficacy for supporting collagen production, bone strength, joint health and integrity, skin elasticity and more.*

Collagen is a special type of protein that accounts for as much as 30% of the body's total protein. In particular, it's a primary structural component of connective tissue. Collagen Complete can be incorporated into shakes, smoothies, and other foods and beverages, making it a convenient way to ensure appropriate intake of collagen's unique amino acids.
AMINO COMPLEX – 360 G
Amino Complex is a balanced, amino acid formula in a great tasting orange flavored powder. It provides essential amino acids in their free form, which makes them immediately available for absorption. This allows them to be put to metabolic use much more readily and rapidly than amino acids contained in dietary protein. Amino Complex contains zero grams of sugar and is sweetened with stevia.
CURCUMIN COMPLEX – 60 SOFTGELS

Curcumin Complex is a highly bioavailable curcuminoid formulation. It contains a unique combination of three bioactive, health-promoting curcuminoids: curcumin, bisdemethoxy curcumin and demethoxy curcumin, along with turmeric oil. The three curcuminoids are the best researched constituents of the turmeric root. Curcumin Complex is manufactured utilizing the Designs for Sport Evail™ process, which helps to enhance the bioavailability and absorption of bioactive ingredients. 
NEURO COMPLEX – 90 CAPSULES
Neuro Complex features the unique, patented, chelated mineral Magtein®, which contains magnesium that is chelated to threonic acid (magnesium L-threonate). This highly bioavailable form of magnesium is formulated to promote brain concentrations of magnesium.* Magtein® is superior to other forms of magnesium at entering through the blood-brain barrier.* This product is designed to support cognitive function, memory, and overall brain health.*
$109.95
---
View full details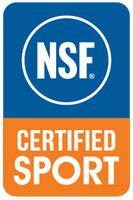 Why NSF Certified for Sport®?
We align ourselves with NSF as a testament to our commitment towards industry safety standards. Determined to become the leading supplement and education resource in the performance nutrition category, our alliance with NSF further reinforces our commitment to product excellence.