BHC120-DS | 120 CAPSULES
Betaine HCl provides 750 mg betaine hydrochloride per capsule along with pepsin, a key protein digestive enzyme produced in the stomach. This product is ideal for those who are looking to support their stomach's digestive function. Taking one capsule before a meal aids digestion, especially the digestion of protein-containing foods, and helps with the assimilation of nutrients.* This product is not recommended for anyone diagnosed with any type of ulcer or gastritis, or those with an overproduction of acid.
This product is in capsule form in order to ensure the delivery of betaine HCl and pepsin to the stomach where they are needed to initiate digestion.
Recommended Use: As a dietary supplement, take one capsule per day before a meal, or as directed by your health care practitioner. 
$15.50
---
View full details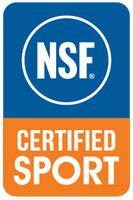 Why NSF Certified for Sport®?
We align ourselves with NSF as a testament to our commitment towards industry safety standards. Determined to become the leading supplement and education resource in the performance nutrition category, our alliance with NSF further reinforces our commitment to product excellence.