COLLAGEN COMPLETE – 390 G
Collagen Complete contains a unique blend of three patented collagen peptides supported by clinical research showing their efficacy for supporting collagen production, bone strength, joint health and integrity, skin elasticity and more.*

Collagen is a special type of protein that accounts for as much as 30% of the body's total protein. In particular, it's a primary structural component of connective tissue. Collagen Complete can be incorporated into shakes, smoothies, and other foods and beverages, making it a convenient way to ensure appropriate intake of collagen's unique amino acids.
POWER PACK – 30 PACKETS
Upgrade your vitamin routine with Designs for Sport™ Power Pack - the cornerstone for any serious athlete's supplement stack. Build a stronger foundation with convenient all-in-one packets developed to cover all the critical nutritional gaps that may affect any athlete's performance. Each packet contains: 1 x Magnesium Bisglycinate, 1 X Vitamin D3 Pro Softgel, 2 x Omega-3 Hi-Po and 2 x Multi + Phyto.
HYDRATION COMPLEX – 240 G

Hydration Complex is a complete and balanced electrolyte formula to help promote optimal hydration, especially after excessive sweating.* It contains potassium, sodium, chloride and magnesium, the main electrolytes found in the body. D-ribose is included because of its importance in healthy cardiac function, exercise recovery and energy production, while taurine helps to regulate cellular electrolyte flow.* Hydration Complex also contains vitamin C, along with the synergistic compounds quercetin and citrus bioflavonoids. Vitamin C supports the cardiovascular system by helping to build healthy collagen, which is one of the main structural components of blood vessels.*
$84.00
---
View full details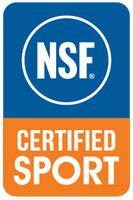 Why NSF Certified for Sport®?
We align ourselves with NSF as a testament to our commitment towards industry safety standards. Determined to become the leading supplement and education resource in the performance nutrition category, our alliance with NSF further reinforces our commitment to product excellence.